| | |
| --- | --- |
| TANDEM AXLE MOBILE PUMP | » VIEW INFO |
The best quality pump now available with brakes and suspension. The picture featured is of our
Predator V600
Pump, which comes equipped with the
powerdump
feature.
Read More »
| | |
| --- | --- |
| SINGLE AXLE MOBILE PUMP | » VIEW INFO |
This is the most complete piston pump available and it comes equiped with all of the features that bring productivity to the highest level. Choose from mechanical and hydraulic drives to features made especially for the
fireproofing
contractor that requires the best.
Read More »
This versatile Tag-Pump configuration of the Predator comes with a removable tow bar and a torsion bar suspension for easy and smooth towing.
Read More »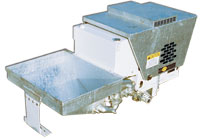 This Skid Pump set up is easily mounted on truck beds, trailers, or even roll-on carts in order to reach the toughest places while mantaining the high pumping output. **Custom designs are available
Read More »