W30SD GROUT & CONCRETE PUMPS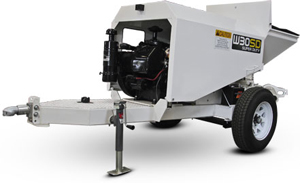 The Western W30 Super Duty Grout and Concrete Pump was designed tough and held to the highest standards of quality. It comes with all the best features at no extra cost making it the most productive and cost effective pump in it's class.
The W30SD pumps 1/2 inch (-12mm) minus aggregate up to 25 yards per hour and was engineered with the contractor in mind. All it's components are made of the highest quality materials and engineering designed to last while providing you consistent results.
It is equipped with powerful dependable engines (Diesel or Gasoline) and a heavy duty centrifugal clutch. It also uses the hinged manifold locking system, a centralized lubrication system ad piston lubricating box which allows smoother pumping, easier clean-up,faster set-up and higher dependability.
Masonary Grouting
Decks & Patios
Shotcrete
Columns
Footings
Swimming pools
Slope stabilization
Lining (Ditch, Reservoir, Channel)
Vault construction
Foundations
Slabs & Basements
Piling
Grout
Slurries
Slab jacking
... Much more!